Access company announcements as soon as they are
released to the market
Live company announcements
As soon as announcements are released by the ASX and NZX they are available to view in Spark.
Announcement archive
Research a company's history by accessing the announcement archive. The announcement archive extends back over 10 years, and can be filtered and searched.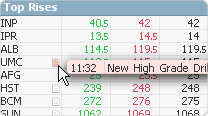 News alerts
News icons appear throught all of Spark's tools to ensure you never miss an important announcement.
News price impact
Quickly identify the impact of an announcement by reviewing the price prior to and after the news was released.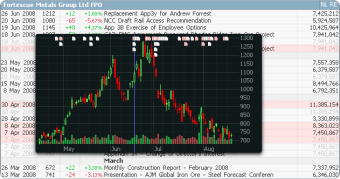 Inbuilt PDF reader

Read company announcements within Spark or export them to an external PDF reader like Adobe Acrobat.
Access local and global news within Spark
Stay up to date and access breaking news stories by subscribing to relevant RSS* news feeds from around the world.

Spark's inbuilt RSS reader is preconfigured with a selection of Australian financial news feeds but can be easily customised. If you want to access commodity news, key Australian government statistics, US bond rates, Twitter conversations or even ball-by-ball updates from the latest cricket test, you can do so from within Spark. It's just a matter of finding the right RSS feed on the internet and subscribing to it in Spark's news reader
*RSS stands for Really Simple Syndication and allows third party applications such as Spark access to content from your favourite websites and blogs. Find out more here
The G button
The G button makes it simple and quick to access stock specific news. With a single key stroke you can display a list of recent news articles that have been published on the internet, and indexed by Google, about a specific company.